Get the Japanese Superfood List
It is Monday again, and my regular Ke routine began. I did the sun gazing meditation and went Nordic walking.
Many farmers harvested rice on the weekend and now about the half of fields are harvested. That means it can be the last chance to see a rice paddy with rice like this.
Do you see a small forest behind the rice field in the picture? That is the forest of the village shrine in this area. It isn't my village shrine, which is 1 and a half kilometers further up toward the mountains, but I see this shrine every morning during my Nordic walk.
In Satoyama, each rural community has a shrine, and this village shrine is the center of our life.
The Shinto Shrine is the Central Part of a Satoyama Community
It is especially tied with rice growing. We have many shrine rituals related to rice farming. We have a ritual after rice planting and we have a ritual after the harvest.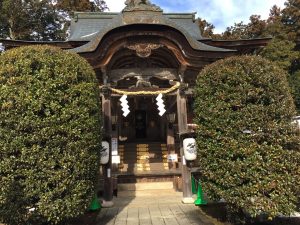 Shimenawa, a thick rope we use to decorate the shrine is made of rice straws. We give rice as an offering at shrine festivals. Therefore, we need to have rice paddies to just maintain the village shrine, too. There actually is a rice field for the shrine.