There are many cosmos fields near my house, and around the middle of October, the flowers get in full bloom.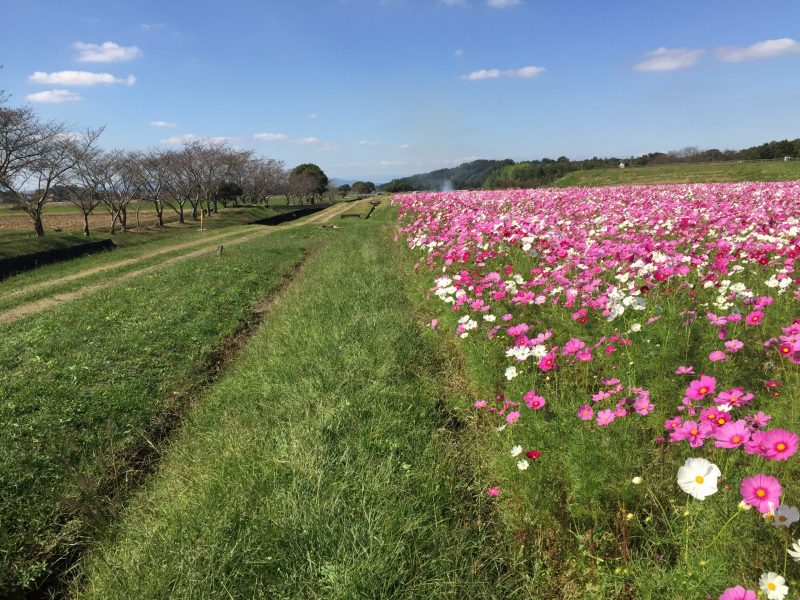 This is my regular Nordic walking route, so I get to see them every morning.
I am so blessed to be living here, I get to go Satoyama Nordic walking every day. I can feel the seasonal changes all the time; rice planting season, rice-growing season, drying season, harvest season, and now after the harvest season comes a cosmos blooming season.
The other day, I saw an eagle catch a snake on the ground. You see so many things happening in the natural kingdom.
The temperature changes, too. It suddenly dropped yesterday and feels like winter already. I didn't get sweaty after the Nordic walking this morning even with a long-sleeved shirt and windbreaker on. Until last week, I was wearing a short-sleeved T-shirt and got sweaty after the walk. I always took a shower and I took a cold shower deliberately to get a hormetic effect. But this morning I didn't feel like taking a shower and last night when I had a bath, I washed my body with a hot shower, not with a cold shower.
By the way, according to my wife, who used to be a nurse, you need to be careful at this kind of temperature changing time. That's when many people catch a cold. You don't turn the heater on now because it is still October, you are supposed to start using the heater in November, but now is the time to use the heater even more so than November she says. This is because your body is not used to the cold temperature while in November the body has already experienced the gradual drops in temperature and has ajudusted itself to the situation.
Keeping your body warm is one of the ways to boost your immune system according to the book I mentioned last week by Dr. Shinjiro Honma.
Having a bath and eating miso soup warm your body up.
The Ikigai Diet: The Secret Japanese Diet to Health and Longevity
POD Paperback
https://www.amazon.com/gp/product/4991064864
Kindle
https://www.amazon.com/dp/B08JGB45HF